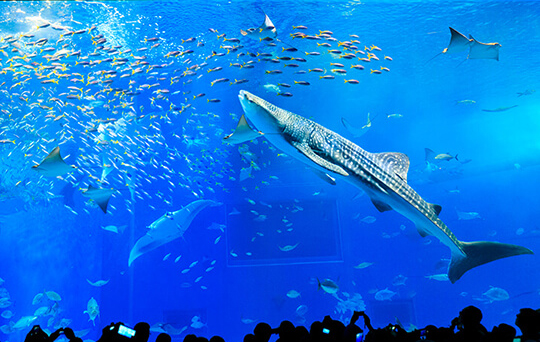 Okinawa Prefecture is made up of the Ryukyu Islands, which at their southern extremity begin at Nansei Island, and lie between Kyushu, the most southwesterly of Japan's four main islands, and Taiwan. Okinawa consists of 160 islands of various size scattered across a vast area of ocean. The temperature in winter is about the same as that of springtime in Tokyo and Osaka, making it warm and comfortable throughout the year.
With Okinawa being in the subtropical zone, you can enjoy beautiful flowers in any season. Taiwan Cherries, which bloom earlier in Okinawa than anywhere else in Japan, red Deigo flowers, colorful bougainvilleas, pure white Easter lilies, and beautiful yellow tabebuias – it is like a party of tropical flowers! Another highlight is the inhabitation of many rare species of plants and animals, such as the Iriomote wildcats (declared a protected species) on Iriomote-jima Island. The crystal blue sea, with white sand beaches and colorful fish dancing through coral, attracts vacationers as a holiday resort area with many diving spots.

Visa: HKSAR and BNO Passport holders enjoy 90 days visa-free access
Time Differences: GMT +9 (Tokyo is 1 hour ahead of Hong Kong)
Language: Japanese
Currency: ¥ (JPY)
Voltage: 100 volts, two-flat-pin

Weather: The best time to visit Okinawa is from March to August.
Warm and comfortable throughout the year
Typhoon season usually comes from June to September.